NEXT EVENT: MAY 23-26, 2024
About Our Explosion Revivals
We hold our annual Explosion Revival every Memorial Day weekend. It consists of a prayer meeting, several services, and a guest speaker, and we generally have a fellowship dinner on Saturday. Freedom Connection is a casual environment, so feel free to come as you are. This year's service dates/times are as follows:
Thursday Prayer Service, May 25 @ 7:00 PM
Friday Service, May 26 @ 7:00 PM
Saturday Service, May 27 @ 1:00 PM
Sunday Service, May 28 @ 11:00 AM
This revival is free to attend, however, we ask that you please fill out the linked registration form below to let us know you're coming.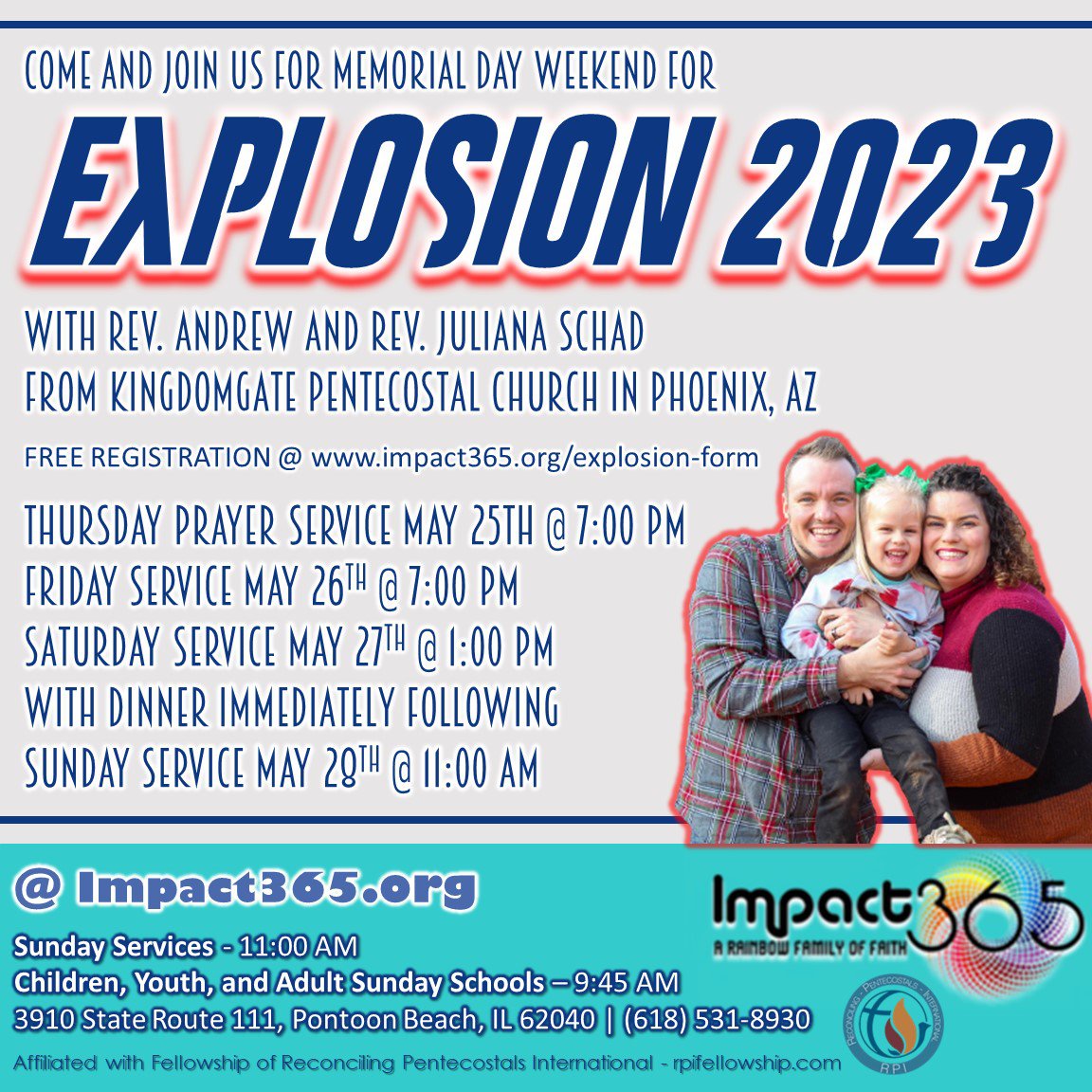 2023's Guest Speakers
We are happy to announce that Rev. Andrew (Drew) and Rev. Juliana Schad, will be preaching our revival this year. Reverend Andrew has his general ordination through Reconciling Pentecostals International and attends Kingdom Gate Pentecostal Church in Phoenix, Arizona. They are on fire for God and we know that they will deliver some powerful messages this year! You won't want to miss it!
Past explosionS
Here are some of our previous speakers:
2014 - Dennis & Evelyn Shave - Phoenix, AZ
2015 - Bryan Grizzle - Clayton, GA
2016 - Shawn Key & Cliffton Cherry - Bella Vista, AR
2017 - Daniel & Paul Parnell - Indianapolis, IN
2018 - Stacy & Christopher Fox - Ft. Worth, TX
2019 - Mary Clarvoe - Aurora, CO
2020/2021 - Cancelled due to COVID
2022 - Linda and Cheryl Adkins - Phoenix, AZ
2023 - Drew and Juliana Schad - Phoenix, AZ
2024 - Laveta Shelton - Odessa, TX
Local hotels:
hotel with Special rates: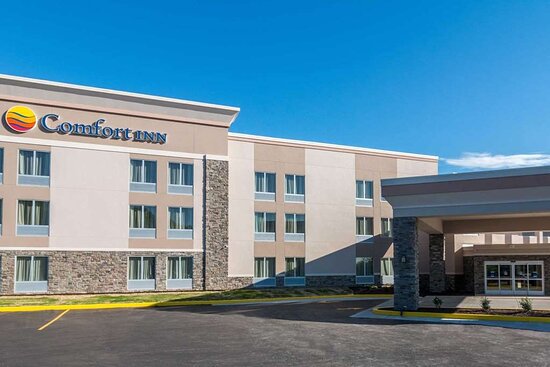 Comfort Inn Edwardsville - St. Louis:
Address: 3080 S State Rte 157, Edwardsville, IL 62025
Phone: (618) 656-4900
Distance to Freedom Connection: 6 miles
We secured a special rate for two queen beds of $134/night. A small block of rooms is being held for us. As for a room being held by Ryan Hildebrand. If there are no more rooms available under that block of rooms, please let us know and we'll try to add additional rooms. Please reserve your room before 5/1/23.
other hotels in the area:
Best Western Plus Pontoon Beach
Address: 4 Regency Pkwy, Pontoon Beach, IL 62040
Phone: (618) 512-1314
Distance to Freedom Connection: 1 mile
Super 8 by Wyndham Pontoon Beach IL/St. Louis Area
Address: 4141 Timberlake Dr, Pontoon Beach, IL 62040
Phone: (618) 219-8112
Distance to Freedom Connection: 1 mile
La Quinta Inn & Suites by Wyndham Pontoon Beach
Address: 14 Regency Pkwy, Pontoon Beach, IL 62040
Phone: (618) 797-1200
Distance to Freedom Connection: 1 mile
Days Inn & Suites by Wyndham Pontoon Beach
Address: 14 Regency Pkwy, Pontoon Beach, IL 62040
Phone: (618) 797-1200
Distance to Freedom Connection: 1 mile
Fairfield Inn & Suites by Marriott St. Louis Pontoon Beach/Granite City, IL
Address: 5224 Commerce Pkwy, Pontoon Beach, IL 62040
Phone: (618) 709-7933
Distance to Freedom Connection: 1.8 miles
DoubleTree by Hilton Collinsville - St. Louis
Address: 1000 Eastport Plaza Dr., Collinsville, IL 62234
Phone: (618) 345-2800
Distance to Freedom Connection: 6 miles
Hampton Inn Collinsville
Address: 7 Commerce Dr, Collinsville, IL 62234
Phone: (618) 346-4400
Distance to Freedom Connection: 6 miles
Drury Inn & Suites St. Louis Collinsville
Address: 602 N Bluff Rd, Collinsville, IL 62234
Phone: (618) 345-7700
Distance to Freedom Connection: 6 miles
Holiday Inn Express & Suites Edwardsville
Address: 1000 Plummer Dr, Edwardsville, IL 62025
Phone: (618) 692-7255
Distance to Freedom Connection: 8 miles
TownePlace Suites by Marriott St. Louis / Edwardsville
Address: 6101 Center Grove Rd, Edwardsville, IL 62025
Phone: (618) 655-3001
Distance to Freedom Connection: 8 miles
Country Hearth Inn & Suites Edwardsville St. Louis
Address: 1013 Plummer Dr, Edwardsville, IL 62025
Phone: (618) 656-7829
Distance to Freedom Connection: 8 miles
Things to do or see in the area:
Places to eat in the area:
shopping IN THE AREA:
Walmart Supercenter - Granite City / Glen Carbon / Edwardsville
Walgreens - Granite City / Glen Carbon / Edwardsville
CVS - Granite City / Edwardsville
Target - Edwardsville
Ollie's Bargin Outlet - Granite City
Goodwill - Granite City
Dollar General - Pontoon Beach / Glen Carbon
Dollar Tree - Granite City / Edwardsville
ALDI - Granite City / Glen Carbon
Ruler Foods - Granite City
Kohl's - Edwardsville
Best Buy - Edwardsville
Michaels - Edwardsville
Old Navy - Edwardsville
Books-A-Million - Edwardsville
Shoe Carnival - Edwardsville
Home Goods - Edwardsville
Maurices - Edwardsville
Glik's - Edwardsville
Slackers Movies Music Games - Glen Carbon
IKEA - St. Louis